-----Ragtime--Automated--Music ------
---

Digital Pianos and Digital Guitars! Karaoke display on all MIDI units! Truly unique MIDI products. Not only do we restore player pianos, we manufacture them. Allow plenty of time to down load the .wav files and view all the pages! Plays in your home, with MIDI files from the internet or from
any MIDI Guitar or Keyboard!
Wireless MIDI available on all units. Our 52 piece acoustic MIDI orchestras with congas, agogos, timbales, claves, guiros, bongos, Vibra slap, drums, crash cymbals, etc. Player piano and nickelodeons, carousel organs, bandorgans, calliopes, preassembled kits or ready to play. Player piano and nickelodeon conversion kits for any piano. Player piano rolls for orchestrions. We buy, sell and restore music boxes, monkey organs, player piano, carousel organ antique instruments such as seeburg, coinola, Regina, Duo-Art Steinway player grands. Miniature MIDI valves, signal processors, replacement parts for Ragtime player pianos. Digital Jamaican Steel Drums! MIDI conversion of roto toms, drums, cymbal, tambourines, triangles,Indian wood block, castanets, flute pipes, violin pipes, etc. General MIDI files. E-mail us for a free brochure and to be on our mailing list. Send $15 for a color catalog to: Ragtime, 4218 Jessup Rd. Dept. WS, Ceres, CA 95307 For service questions please consult the video service pages below. If you don't see what you are looking for feel free to email Ken at ragtimewest@earthlink.net and he will send you a link or see that a video is uploaded to suit your needs.

For product purchases and questions call Ken at (209) 735 0767 Skype Call (209) 735-0767.

For parts and train whistles Monday through Friday 7am - 4pm call (209) 634-8475 or Email us at ragtimewest@earthlink.net.



Circus Wagon. Also known as a pianola, calliope, bandorgan player piano, pianola, calliope, draaiorgel,saloon,western town, draiorge, orguebarbarie , draihorgel, street organ, orgue de barbarie, orgue bernard, musique, mechanique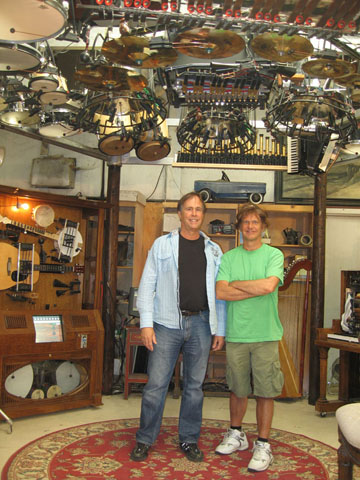 Pat Metheny and Ken in the Ragtime Showroom discussing his Version 2 Orchestrion for 2011


Noted film director, Richard Donner (Superman, Lethal Weapon, X-Men)recently was given an Automated Ukulele by his wife Lauren Schuler Donner. When I asked him how he had heard about me he related this story, which we got on video. He had heard about me from Olivia Harrison, the widow of
George Harrison
...watch the video below!

Harry Connick Jr. plays our Ragtime Nickelodeon on the set of Cheers. Watch it here below:





Click here to go to the Ragtime Movie Demo Page - Excellent Mpeg files!


Click on the photo above to go to the BW38 webpage

BW66m-AbCDK-7This Model A shows off our BW66m band organ very well. Ask about our custom parade vehicles. This little band organ is on metal spoked wheels with rubber tires. It can be pulled in parades without the truck.
Great for Pool side!

The SDm-5 and the SDmh on right

These Little huts contains a MIDI operated steel drum, at times fashioned by the Gold Record performing artist Tom Reynolds of "Hamilton, Joe Franks and Reynolds" They took the song "Don't Pull Your Love Out on Me Baby" to gold in 1971. Tom makes the steel drums for us. It contains Bass Drum, Snare Drum, High and Low Bongo Drums, Snare Drum and Tambourine. Touch screen and Bill acceptor is standard. Click on the YouTube video below to hear it play:



---





Musical Parade Vehicles




Attractions to Remember




Click on small pictures below for larger photo




If you've heard one of these play in person you were undoubtably impressed. Shown at trade shows only playing acoustically, you need to hear the stage performance version which is fully mixed, and amplified with compressed bass drums. Trade shows don't allow demonstration of this unit amplified. It is simply too over powering for fellow exhibitors. MP3 files are available on the MP3 page. Plays 47 percussion instruments with Bass Guitar, Guitar, Banjo, Flute Pipes, Accordion, 24 Bells and Piano and Steel Drum. Sounds great with rock, classic, blues, jazz and many other music forms. Can be Horse drawn or with a tractor. 12 Volt DC or 110 VAC selectable. Plays 4 hours on a single charge. All acoustic instruments are mic'd and mixed for superior stage performance. Terrific with live dancers and singers. A roof top stage is included (not shown) for performers. Holds 3 adults safely with safety straps and brass rails. Roof includes roll down clear plastic blinds for inclimate weather. Private demonstrations to prospective buyers available, please inquire by calling (209) 735-0767
Click here for a YouTube video of the above playing "TotalRecall". A good example of the Automated Kettle Drums which play a range of 14 notes.

---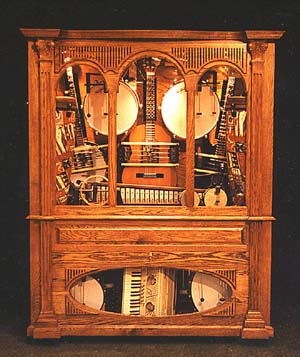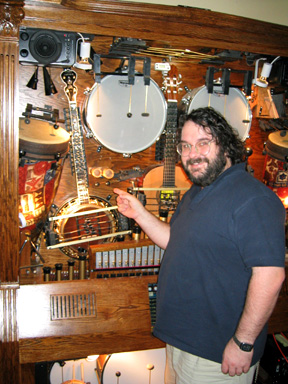 Good enough for Lord of the Rings film director Peter Jackson's home in Wellington, New Zealand. Unbelievable sounds and MP3 files are available on our MP3 page. Plays 47 percussion instruments with Bass Guitar, Guitar, Banjo, Flute Pipes, Accordion, Bells and Piano. Sounds great with rock, classic, blues, jazz and many other music forms. Click for YouTube of Peter Jackson's comment, "proud have the first Ragtime Automated Band in New Zealand".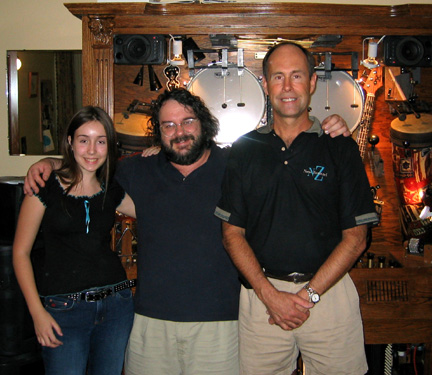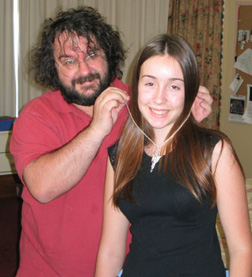 A photo of Ken and Jamie Caulkins with Peter Jackson in his home in New Zealand.

A gracious host, here is Peter Jackson presenting Jamie Caulkins with the Elvin Star, Elvin symbol of immortality.

---
---
Famous NASCAR race car driver
Dale Earnhardt Jr.
and his Country Special and Piano for his private saloon in his private Old west Town on his estate in Mooresville, NC.
Dale in his Saloon with our products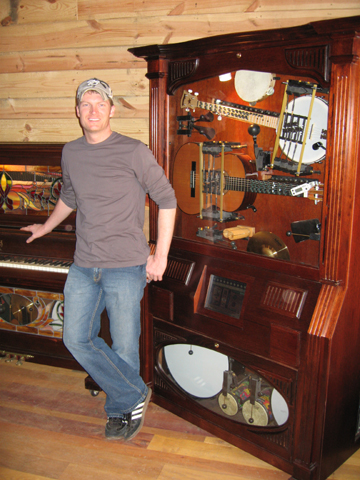 ---
---
This is our Band Organ mounted on a Hot Rod Flatbed truck for Parades. Used by Coca Cola in Brazil for Carnival.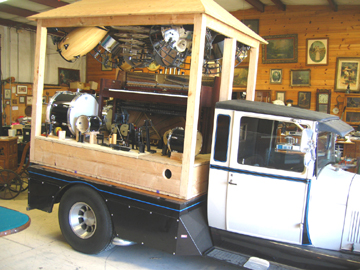 Grade 3 Solid Oak Cabinet on left, Cherry in Center.
Click on small pictures below for larger photo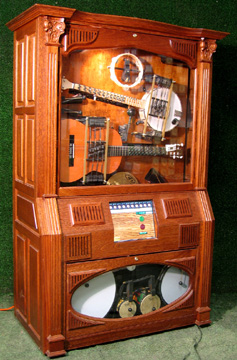 On the left is our Country special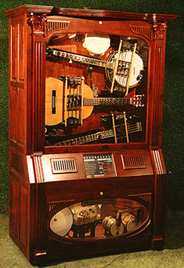 On the right is our Bluegrass special




Wonderful! Our Bluegrass Special. Must be seen in person. Moret MP3 files are available on our MP3 page. Plays 15 percussion instruments with Bass Guitar, Guitar and Banjo. Sounds great with rock, classic, blues, jazz and many other music forms.
Click on one of the song titles below to hear it play an actual recording of it playing on MP3 format. Great for your saloon.
---
---


Touch screen available with our special jukebox program, screen shown below. Selections automatically picked from Sub Folder names within Juke Box folder. Scroll Aphabetically within folders. Great for organizing MIDI, MP# or MPEG files for instant access. Also will work for pre recorded announcements. Great for many applications. Holds more than 20,000 songs on an average hard drive. Coin operated or Free Play. Works with Serial contolled Bill Acceptors and Electronic Coin Mechanisms.

---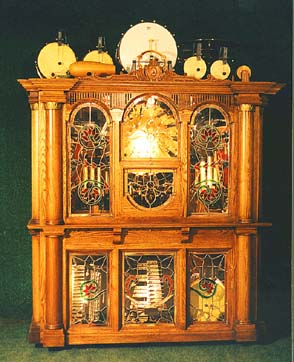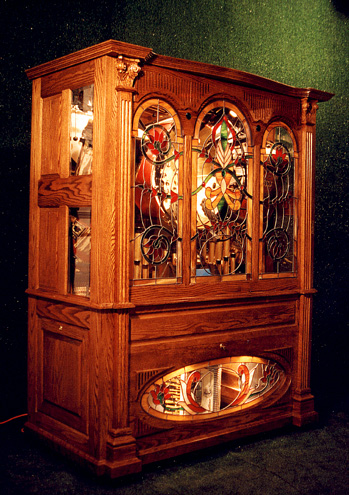 Big Bertha on the left and Little Bertha on the right.
Click on one of the YouTube videos below to here Little Bertha play:
Our LB-47 playing Cha Cha Cha:

Little Bertha orchestration orchestrion. Below it is playing Hot Hot Hot. I take both the front and bottom panels off so you can see the instruments playing better.

Or the theme song from Rocky:


Should be in any collection. Also known in europe as orgeldraaier, draaiorgel, barrel organ, drehorgel, orgue de barbarie, handdraaiorgel or pianola

Click Here for the above playing Dayo in stereo 1.4 mb - 66 seconds - allow 8 minutes to download.



---


Be sure to get on our Mailing list for sales flyers and new product info.
Just click on this mail box-
and then type in your name and address
Click on the Photo of the Train Whistles below to go to the parts page.
Pneumatic Train Whistles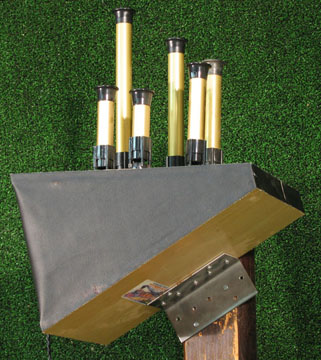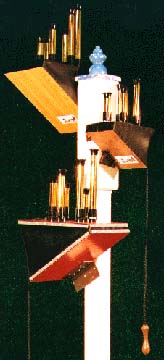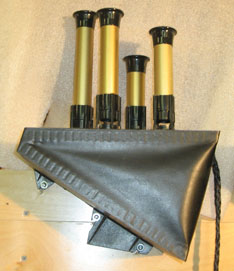 Watch this YouTube Video to hear the 4 pipe (SE-1) train whistle (6"x9" by 14" high)36 screws hold the fabric to the body:

DC-1 Duck Call- Video below, with bellows and similar appearance to SE-1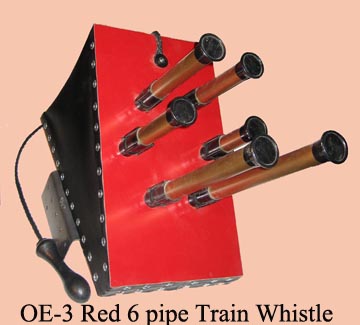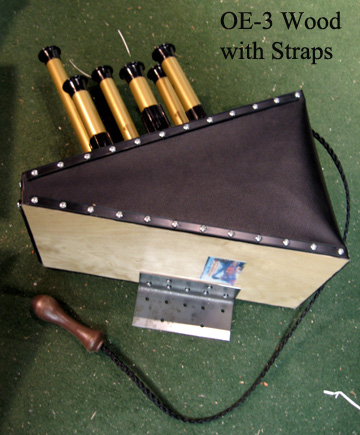 Watch this YouTube Video to hear the 6 pipe (OE-3) train whistle (16"x9" by 21" high)58 screws hold the fabric to the body. Commercial use intended:

Mounting Brackets included for all Whistles. The OE-3 mounting bracket may be on the right or the left. The SE-1 mounting bracket is fixed on the right side of the Whistle body. Rope and handle included. Please contact us for Wholsale quantities of 12 or more.


Pneumatic Train Whistles webpage

---
Acoustic MIDI pages. MIDI products menu webpages
Automated musical orchestra instruments controlled by your computer!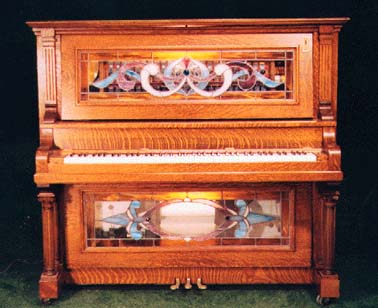 Nickelodeons and Player Pianos - webpages

Acoustic MIDI Orchestra instruments - webpages

MIDI Caribbean Steel Drums - webpages
---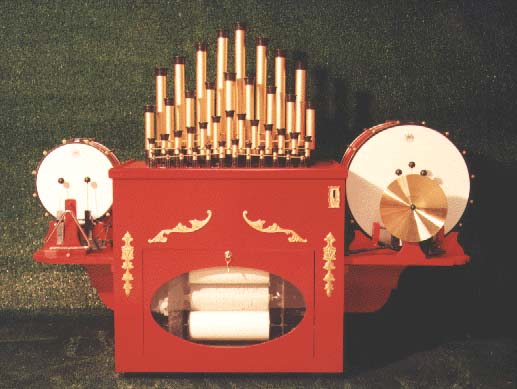 Calliopes and Band Organs - webpages
Popcorn Machines, automated and musical - webpages
Band Organ Vehicles - for parades, circus etc. - webpages
Kits for all our instruments - webpages
Accordion Units webpages
Video Tapes webpage
Misc. Antiques, Music boxes, old cars etc., watch for frequent changes.
Ragtime Factory Tour and Company History - webpages
O Rolls for nickelodeons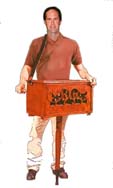 Monkey Organ, Grinder Organ, Street Organ webpages

Steel drum band - hut


Installed in Ocean Park, Dalian, China is this one:



Until this summer this was at Isle of Capri, Lake Charles, LA - as a permanent attraction, now in the process of being moved to Las Vegas to be set up in the Lady Luck Casino following reconstruction. Most likely in September, 2001. You can see another one at Piscilago Waterpark just out side of Bogata, Columbia. It is the center attraction at the main gate and is complete with two moving robot Columbian men as well as a guitar and bass guitar.


Installed in Bollywood, Mumbai, India is this one playing only Hindi Music: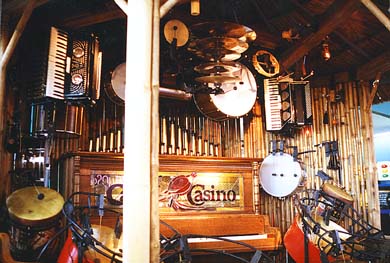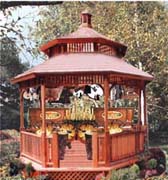 Steel drum Gazebo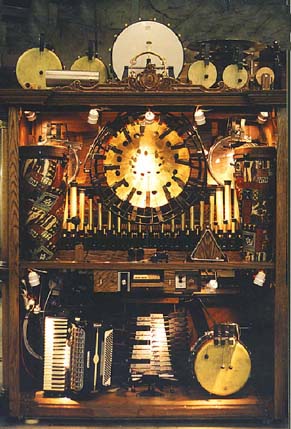 Large Orchestrion - MIDI


Click Here for a clip of the above playing a march 165 KB - mono
Click Here for a clip of the above playing New York New York 439 KB - mono


Roll operated stringed instruments.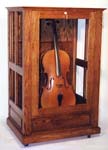 New acoustic projects webpages.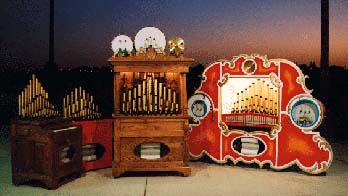 Click on picture above for a sound clip of our small band organ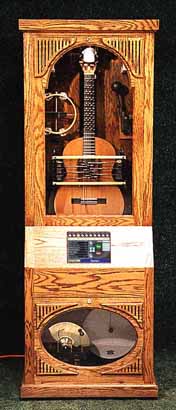 Click here to go to the MIDI Guitar page.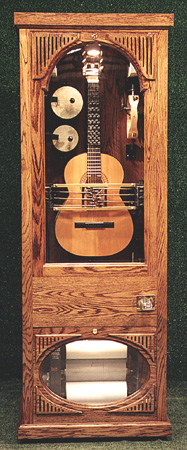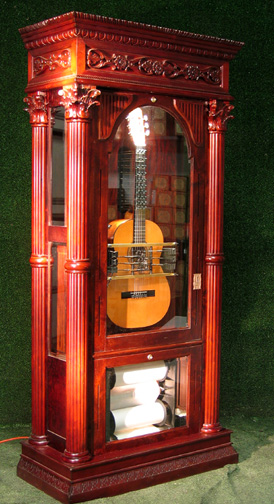 Click here to go to the Roll Operated Banjo page. The cabinet to the right is known as the Morena.
Click here to go to the MIDI Steel Drum page.
---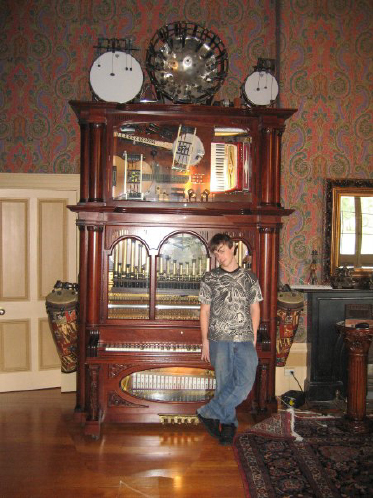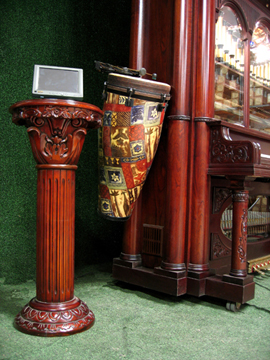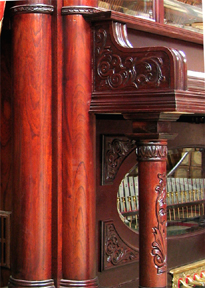 Seen here is my son Jeff with our largest cabinet style Orchestrion. It is a MIDI Zm-AbCDEGJKPS with guitar, banjo, bass synth, pipes, glock, piano, accordion, Steel Drum and drums. The PC is located within, but a matching pedestal with touch screen is optional. Without it you may use your own PC or any MIDI player. Available in Cherry and light or dark Oak. Carving, as shown, is optional. There is one of these in Stock at the Ragtime Australia store near Brisbane, Australia.




If you love what we do, do not have the room but would like to support our research in the field of Automated Music feel free to follow the link below to donate. Your contributions are both needed and welcome.
---

---
---

Last Update: March 2, 2015
Web Author: Ken Caulkins Number of visits: